About CalState Solar
Committed to excellence and protecting our planet with renewable energy
Why Choose CalState Solar?
Not all solar companies are created equal, and in fact, most have never even installed a roof. What? You mean the company I could hire to install my solar panels aren't roofers, but I'm going to trust them to attach solar panels to my roof? NO WAY!
Our expertise in both solar and roofing is what makes CalState Solar unique. Not only are we a locally trusted, family-owned business that offers customized home and commercial solar systems, but we are a licensed general contractor that works on roofs every day.
Very simply, we're a company that has a strong commitment to customer service and superior quality for every job we do. Our team prides itself on making sure you know whether or not solar electricity is a fit for your home or business.
CalState is careful to set proper expectations, certain to deliver comprehensive and accurate solutions, and promises to consult in the best interest of our prospective clients every time.
Thanks for considering our company, we hope that you take advantage of our services and check out your own solar solution.
We Sub-Contract For The Biggest Solar Companies
The reality is big national solar brands are great at marketing, but many lack the staff and solar techs to do the jobs without sub-contracting. We are a sought after sub-contractor for local and nationally recognized publicly traded solar companies to do their roofs and solar installations.
Our Solar Expert Will Help You Decide If Solar Is Right For You During Your FREE Solar Consultation. CALL TODAY (949) 789-7990 or Fill Out The Short Form Below.
Get Started With Your Free Solar Consulatation
FAST FREE SOLAR CONSULTATION
Find out today if solar is right for you. We will go over all the details to calculate the cost, savings and incentives you are likely to get from installing solar panels for your home.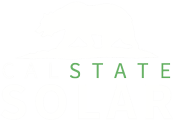 Family owned home and commercial solar provider proudly serving Southern California in Riverside County, San Diego County and Orange County.
© 2010-2020 CalState Solar. CA Contractors License 1006247
CalState Solar
27576 Commerce Center Drive #110
Temecula, Ca, 92590
Phone 949.789.7990