Solar Powered Grow Rooms
Roof Mount Solar and Grow Room Installed
Solar Panel Hydroponic Growing Installation
Having a solar-powered grow room is essential to keeping your energy costs down for both commercial growing facilities and at home gardeners.
These green-friendly growing setups make growing fresh, nutrient-rich food and medicinal plants easy and efficiently almost anywhere. With the addition of solar power to a hydroponic grow operation makes it one of the most energy-efficient, eco-friendly ways to grow nutrient-rich plants.
Fortunately, with recent improvements in both solar technologies and hydroponic growing equipment you can build a grow room that is powered entirely by renewable energy.
Solar prices have fallen in recent years, and many indoor hydroponic growers have taken advantage of offsetting their high electricity bills from running high powered HID and HPS lights and several LEDs with a cost-effective solar panel system.
Advantages of Powering Your Growing Operation with Solar Power
Cost Effective: Indoor grow rooms can use quite a bit of power if they are using various types of HID lights like metal halide, and high-pressure sodium which many growers prefer for higher crop yields. You may use super-efficient LEDs, but even they can double your power bill if you have a lot of them running for 12-18 hours a day. A solar power system is necessary to keep your power costs affordable.
System Sizing: Several factors dictate what size solar system you need to meet your power requirements including what you're growing, size of your growing operation and the type of lights you are using. These factors allow us to configure the right amount of solar panels you need to compensate for your electrical usage.
CAL STATE
SOLAR + HYDRO SPECIAL
Full Roof Mount Solar System Installed
20 Panel Solar System
20 Micro-Inverters
Web Based Monitoring
Electrical Panel Upgrade
Eliminates Up To $250 Per Month At SDG&E
Full Indoor Six Plants Grow Room Installed
2 Gativa 600/750 Flex Lights
LG Mini Split
Dehumidifier
Co2 Burner
Environmental Controllers
All For $200 – $275 Per Month Call 949-789-7990 For More Details
It's Easy To Get Started! Just call us today or submit the form below and we will get back to you right away.
Please call us today at 949-789-7990 to schedule your short meeting with one of our owners
Tell Us About Your Grow Room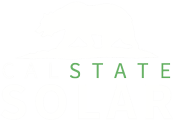 Family owned home and commercial solar provider proudly serving Southern California in Riverside County, San Diego County and Orange County.
© 2010-2020 CalState Solar. CA Contractors License 1006247
CalState Solar
27576 Commerce Center Drive #110
Temecula, Ca, 92590
Phone 949.789.7990