Canyon Lake Residential Solar Installation
Cost Effective Solar Energy For Your Canyon Lake Home
Solar In Canyon Lake Homes Just Make Sense
CalState Solar has been providing solar energy contracting services in Canyon Lake for many years. In fact, the owner of CalState Solar, Mark Pearce lived and raised his family in Canyon Lake, so we know what the community expects and how best to operate within the gates so not to put your relationship with the POA at risk.
One of the things that make the lake life so special is the abundant year-round sun and beautiful weather which means that Canyon Lake is excellent for producing green solar energy for your home with solar panels.
When your not out on the boat you're surely running up your power bill by cranking up the air conditioner when it hits 103 degrees outside. Why not take advantage of our diverse financing choices, the tax incentives, and utility incentives and lock in your power rate for decades with renewable solar energy?
Is Your Home in Canyon Lake Solar Power Compatible?
So many home owners have seen the value that clean, affordable solar energy can offer it's impossible to miss the homes all over Canyon Lake with solar panels on their roofs. But what is it that made those homeowners decide to go solar?
We know there are many questions when looking at solar energy contractors in Canyon Lake like How much does solar cost? Who should I choose to install my solar? How many panels do I need? Can I sell my house if my solar system isn't paid off yet? We will answer all of these questions in your free solar consultation.
Do you think SCE (Southern California Edison) is going to end increasing power rates each year? And more importantly, what will you be paying for electricity in 5, 10, or 15 years? Switching to cost-effective solar panel system produces tons of value for your home and your wallet.
Solar Panels Can Raise Your Canyon Lake Homes Value
The Canyon Lake area has quickly grown to one of the fastest growing cities in CA, and real estate values are rising which makes solar a good way of improving your home's value.
How Much Value Can Solar Panels Add To Your Canyon Lake Home?
Example: Installing 5kW of solar panel system can add on average $20,000* ($4 x 5,000W =) $20,000 to the homes property value. Roughly each watt of solar power adds about $4 to a home's value in California.
*CA averages vary based on the size of your system, quality of solar equipment and you typically won't see this additional value unless your panels are paid off.
Please call us today at 949-789-7990 to schedule your short meeting with one of our owners
Get Started With Your Free Solar Consultation
Things To Consider Before Going Solar In Canyon Lake:
Your Future – Do you own your home? Are you planning to move?
Location – Is your roof location ideal for solar? i.e. is it south facing?
Roof Style – To maximize sun exposure, your roof panels need to meet particular conditions.
Energy Habits – Is your energy bill over $100?
Your Finances – Depending on how you decide to purchase and install your solar panels, there are many financial incentives to help reduce costs.
Rest assured we will go over all of this and more to help you decide if solar is right for you.
Why Hire A Local Canyon Lake Solar Energy Contractor?
Whether you live off Canyon Lake Dr. S, Canyon Lake Dr. N, Vacation Dr or Longhorn CalState Solar is the best Lake Elsinore solar installer for your home.
CalState Solar has been helping Canyon Lake Elsinore solar customers for years. We are located just West of the I-15 freeway close to you, and many of our team members live in the area. When you hire a local solar power company, more of your hard earned cash stays here in our area, and of course, that benefits us all.
We Work With The Biggest Solar Businesses
We are a top sub-contractor for many of the leading solar businesses in CA so you can trust us to not only help you choose the appropriate system but complete your solar installation trouble-free and on time.
CalState Solar covers the entire city of Canyon Lake from the South entrance to the North gate to Goetz Road. You just may run into us driving our golf cart over the Canyon Lake Towne Center, having dinner at Pepe's, or playing a round at the Canyon Lake Country Club on our days off.
Home Solar In 7 Easy Steps
Every new customer starts out with a meeting with either one of our owners, or one of our highly trained consultants. During the meetings, we are much more interested in learning about your goals than to try and give you a standard solar system. Nothing is standard, and it is our goal to make this experience perfect for you.
Solar Financing has come a long way in the last few years. Unless you choose to pay cash, all options are $0 Down and guaranteed to have lower monthly payments than the electric bill you are replacing. You can finance your solar system with a lower APR than you can find with a home or car loan. When we discuss your options, we will tailor them to the specific needs of your household and personal budget to maximize your savings.
Once you decide to get solar, we will come back out to your house and complete a site audit. The first step is you qualifying us as a company and making sure we are who you trust to complete this job in the best manner possible for you. The site audit is CalState Solar making certain that we can qualify and build solar on your house.
We look at the roof support, the roof type, the electrical system in your home, we look at the ground if need be and perform an assessment of the shape your house is in. If there are any issues with your house that need to be addressed and replaced, this is where we diagnose and then discuss with you the best option to get them fixed. Because we are a general contractor, in most cases we can fix them ourselves and for a much better price than you can get from anyone else.
Once completed and we approve your house, we will send you an electronic design of the solar on your roof for you to approve. Once approved, that design will be sent to our Engineer, and we will get the plans prepared for your jurisdiction (city or county building and safety). We will work with the jurisdiction until the plans are approved, and the permit is ready to pick up.
Each HOA is different, and they rarely work with companies on approvals, so in this case, it is your responsibility to work with you HOA and get the system approved. We will cooperate with you and give you everything they require from us to make sure we get the approval before we are ready to build.
Once the permit is approved, we will contact you to schedule your installation date. Typically we try and schedule a week or so out, however, if things work out right and we can get you in sooner we will certainly do so. You will find our crew is highly trained and incredibly respectful. We will walk you through the whole job, show you how it works, and consult you for any considerations required.
City Final Approval and PTO
Once the installation is complete, we will contact the city and get their final approval. We will then take that approval and send it to the utility to get PTO (Permission to Operate) this is the final approval from the utility and when your system goes "live."
FAST FREE SOLAR CONSULTATION
Find out today if solar is right for you. We will go over all the details to calculate the cost, savings and incentives you are likely to get from installing solar panels for your home.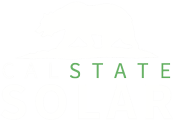 Family owned home and commercial solar provider proudly serving Southern, CA, Riverside County, San Diego County and Los Angeles County.
© 2017 Cal State Solar. CA Contractors License 1006247
CalState Solar
Canyon Lake, CA 92587
Phone 949.789.7990